Porsche® Buff Talks Shop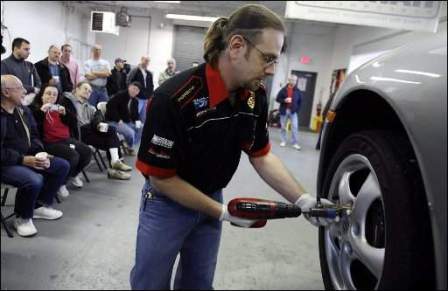 (Photos by GARY MALERBA/Special to the Free Press)

This wasn't your average trip to the car mechanic.

Inside a one-man shop in Royal Oak, 27 men and two women this month enjoyed a
continental breakfast and watched a ponytailed mechanic dole out an unusual brand
of Saturday service: a brake-job party.
Have another pastry, but don't mess up the spotless floor of Gilson MotorSports.
The audience -- many of them members of the Porsche® Club of America -- had driven
from as far away as Grand Blanc and northern Ohio, drawn by a seminar for car nuts
billed as "Everything you need to know about your brakes."
After the shop talk, they socialized around a television as a car race aired. The timing
was perfect for Jim Stevens, 47, of Waterford.
"Everybody's got spring on their minds," said Stevens, owner of two classic Porsches
and a pair of 1970 Pontiac Trans Ams.
"I'm noticing the Camaros and Mustangs coming out now. Something like this is one of
the rites of spring," he said, gazing at the swirl of car buffs ogling cars around the shop.
The spread included a race-ready Honda -- hood up -- and several Porsches.
Mechanic Howard Gilson, 35, of West Bloomfield opened up shop in October, servicing
any make but specializing in Porsches and other German makes.
On a recent Saturday, Gilson taught all comers how to change their own brake pads and
brake fluid.
Outside, the visitors had parked their wheels: a late-model Chevrolet Corvette, a high-performance 1998 BMW M3 and more than two dozen Porsches® -- many of them classics, including a 1967 Model 912.
Inside, wasn't Gilson teaching himself out of some brake jobs? Nope, just building trust
with savvy car owners, he said.
"This crowd ranges from street-drivers to track guys," said Gilson, clad in safety glasses
and a red Porsche® shirt. "They may not do the work themselves, but they really like to
know all about it."
Step by step, he went through replacing disc brake pads, then changing the brake fluid,
on a silver 1999 Porsche 911 Carrera.
Finally, it was time for the send-off from any decent party: goody bags.
There were brake pamphlets, special wheel wax, pens, stickers and spray-on cleaner,
handed out by Gilson MotorSports.
"This is great, Carrie," said BMW owner Ken Borg, 40, of Grosse Pointe Farms.
Contact BILL LAITNER at 248-351-3297.